What does it take to succeed as an athlete? Hard work, of course. But if the answer were that simple, success would be much easier, wouldn't it? Most athletes compete because they love pushing their limits. The truth is, to succeed in a sport like cross-country skiing you need more than just the ability to go as hard as you can. Recently I came to the conclusion that, although hard work is important, the hardest part of being an elite athlete is actually self-discipline, the ability to hold yourself back. If you always trained as hard as you possibly could you would end up running out of energy and eventually burning out. Of course if on the contrary, you played it too safe and didn't train hard enough, you may never reach your full potential. My theory is that both hard work and self-discipline are essential to becoming the best athlete you can possibly be, but you must learn to balance both. I call this the perfect compromise.
Ready for our 3h run in Tremblant
The alignment camp in Montreal and Mont-Tremblant was the perfect opportunity to practice the balance between hard work and self-discipline. The first two days were spent in Montreal at the b2ten facility where we did four different hard intensities sessions on a stationary bike, ski erg and Jacobs Ladder (basically a never ending ladder machine). During these two days I focused on the hard work aspect. It was fun to push my limits alongside all my teammates and competitors and get an idea of where I am in terms of my fitness.
Testing our limits on the bike at b210. Deep in the pain cave
After the testing in Montreal, everyone headed to Mont-Tremblant for a ten day volume camp. It was now time to put in the big hours and work on the self-discipline aspect. This meant I had to put aside my competitive nature and focus on my personal goals for the week. During my zone 1 and zone 3 workouts I worked on my efficiency and my technique and reminded myself constantly that I must listen to my body in order to race fast when it really mattered.
Although it was my biggest week of training ever, it didn't feel that way. We were spoiled in so many ways. I had a big group of training partners from all over Canada to train with, great coaching support and access to trails and roads right from the door of our hotel. It really can't get much better than that! My favourite workout of the week was a 3 hour run/hike up Mont-Tremblant on July 1
st
, an amazing way to celebrate Canada day!
Afternoon skiwalk (Teammate Mia)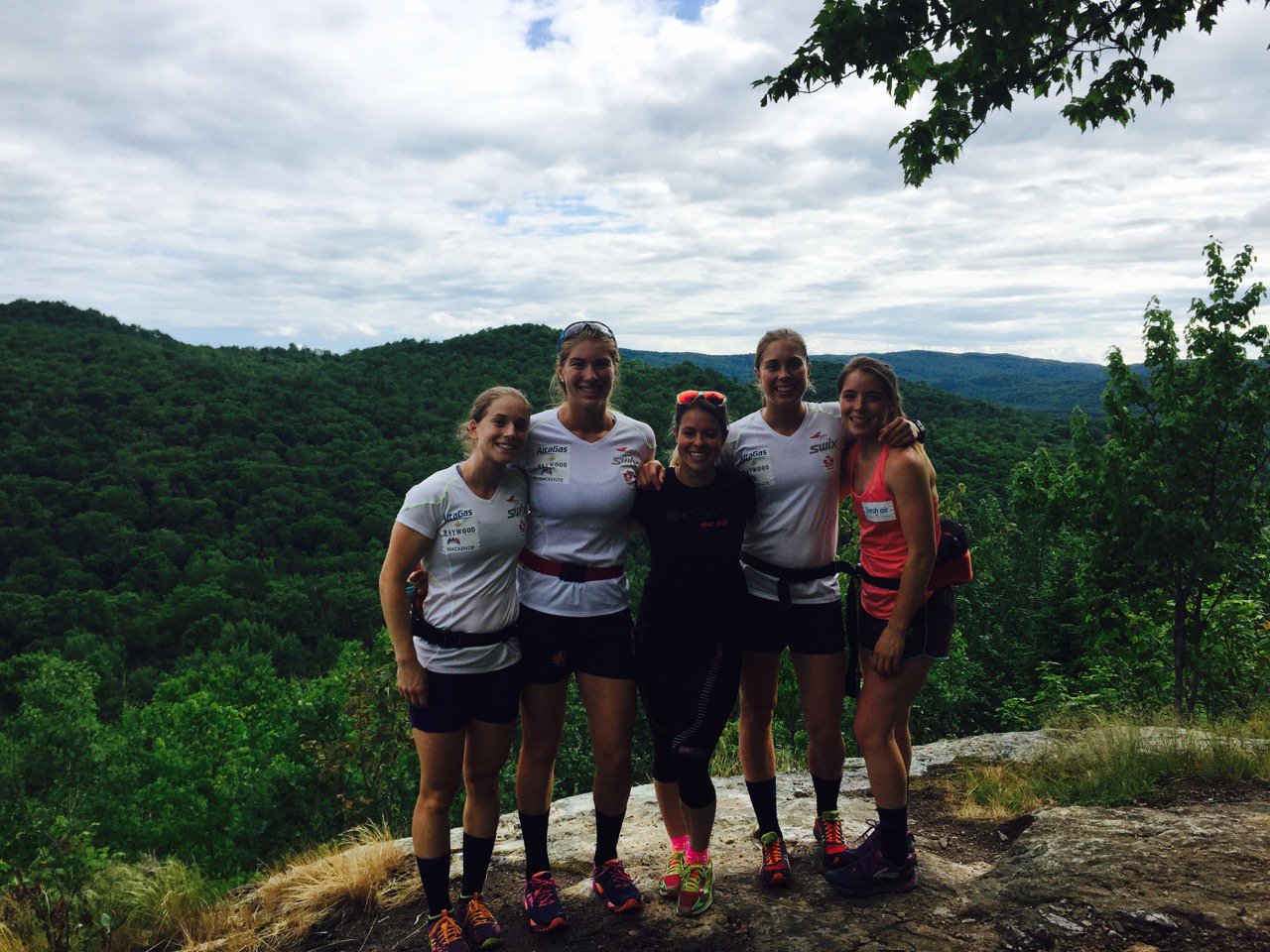 Testing out our new ec3d compression socks
Speed session
Spotted a dear before a swim at sunset
After the camp, I headed home to Chelsea for a short (but sweet) visit. It was great to catch up with friends and family and spend some time relaxing on the Gatineau River. I also got to attend a Nakkertok practice, something I always look forward to.
I have been back in Thunder Bay for over a week. Last week we did the infamous 3km uphill TT and I was super excited to get a new personal best ( by 27 seconds) as well as a new women's record! It was even better to see so many of my teammates get a PB as well, a good sign that our hard work ( and self-discipline) is paying off.
A hard post training camp ski striding session in Thunder Bay
The team at the top of the Sleeping Giant
Enjoying a rest day with my sister and dog at home
As always, thank you for reading,
KSJ
P.S If you have not heard already, my home club Nakkertok Nordic is a finalist for the Kraft-Heinz Project Play grant of 250,000$. This Grant would be used towards improving the trail system and investing in snow-making. This grant would benefit not only Nakkertok, but the entire ski community by providing early season skiing and better trails for racing at the Eastern Canadian Championships. You can vote as many times as you want between July 25
th
and 26
th
by visiting
http://kraftheinzprojectplay.com/en/